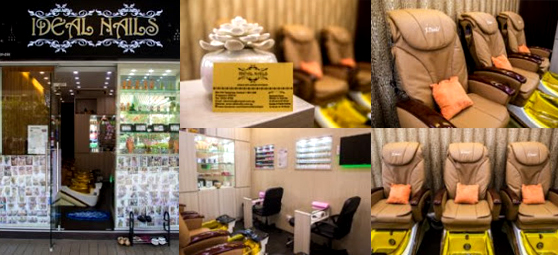 At Ideal Nails, we strive to provide the highest standard of care and luxurious pampering services for our guests. Our excellent team of dedicated professionals are here to provide tender care and quality services to each guest who walk through our door.
The range of services provided from this manicure and pedicure nail salon in Singapore is endless. Some of the services provided include superior manicure/pedicure, nail treatment, a wide range of nail art including bridal nail art, various spa services, eyelash extension, waxing and many others. You can be assured to receive much more than just pampering and general relaxation at Ideal Nails as their professional team guarantees the highest level of hygiene and quality service.
If you would like to take up manicure and pedicure or even nail art techniques in Singapore, a range of courses are available at Ideal Nails.
All our implements and equipment are put through the highest level of sterilisation comparable to the high standards of the medical industry. All metal implements used during treatments, including nippers, clippers, metal pushers, drill bits and tweezers, undergo a debris-removal process and are then sterilised in our state-of-the-art autoclave. This system of decontamination represents the ultimate in modern medical practices regarding client protection.
Blk 510 Tampines Central 1, #01-250, Singapore 520510
Tel: 6333 4798
Email: enquiry@idealnails.com.sg
Ideal Nails Opening Hours:
Monday to Saturday: 11.00am - 9.00pm (Last Appt - 8.00pm)
Sunday & Public Holidays: 11.00am - 7.00pm